In this episode, we get together with George "GW" Whittaker of Big Fun Amusements, and Gene Wills to discuss the latest pinball machines from Stern, JJP, Heighway Pinball, Planetary Pinball, Spooky Pinball, and American Pinball.
Keep up with Big Fun Amusements via George's Facebook page, as he posts anything for sale there first:
https://www.facebook.com/profile.php?id=100013626933993
Source:: Episode 118
In this exciting, action packed episode, we discuss new pins by Stern, playfield issues, and do a rather long segment on boutique pinball companies!
Stern Aerosmith pin:
http://ultimateclassicrock.com/aerosmith-pinball-machine/
Batman '66 issues, more issues throughout this thread:
https://pinside.com/pinball/forum/topic/batman-66-whats-your-impression/page/28#post-3544738
Pinside thread on Boutique pinball:
https://pinside.com/pinball/forum/forum/boutique-pinball
Kevin Kulek in court:
https://pinballsupernova.wordpress.com/2017/01/21/news-kevin-kulek-pinball-predator-fiasco-brought-into-court-to-speak-about-charges-against-him/
Skit-B Discussion on Pinside:
https://pinside.com/pinball/forum/topic/the-official-pinside-skit-b-predator-discussion
Scoregasm Master from Day One Pinball:
http://www.dayonepinball.com/games/scoregasm-master/
Captain Nemo from Quetzel Pinball:
http://www.quetzalpinball.com/
Pythons Pinball Circus from Circus Maximus:
https://www.facebook.com/circusmaximusgames/
Medieval Madness Remake by Planetary Pinball:
http://www.planetarypinball.com/mm5/merchant.mvc?Store_Code=PP&Screen=PROD&Category_Code=GAME&Product_Code=PPS-MMR-LE
Magic Girl Pinball by Zidware:
The Big Lebowski/BOP 2.0 by Dutch Pinball:
Full Throttle/Alien Pinball by Heighway Pinball:
http://www.heighwaypinball.com/
Wrath of Olympus by Riot Pinball:
Lexy Lightspeed by Multimorphic:
Timeshock by Silver Castle Pinball:
https://www.facebook.com/silvercastlepinball/
Thunderbirds by Hiomepin:
https://www.facebook.com/HomepinPinball
Pinball Gremlins by Vonnie D. Pinball:
https://www.kickstarter.com/projects/2065029795/pinball-gremlins-pinball-machine
https://pinside.com/pinball/forum/topic/pinball-gremlins
Wrath of Cthulu by Rebel Unit:
http://www.therebelunit.com/index.html
Spooky Pinball:
And finally, Pinfest 2017:
http://www.pinfestival.com/
Source:: Lock is Lit Podcast Episode 117
We are indeed back! In this long delayed episode, we discuss Pinfest 2016, new pin purchases, and we have an interview with Ed Klemp of The Pinball Lounge in Ovieda, FL!!
A huge shoutout to our new sponsor Big Fun Amusements, West Virginia's premier Jersey Jack Pinball dealer!! Check them out here:
Also, for your enjoyment:
http://www.wizardamusement.com/
Batman '66 Information
https://pinside.com/pinball/forum/topic/batman-66-by-stern-new-info
Ghostbusters Issue Thread
https://pinside.com/pinball/forum/topic/ghostbuster-issue-thread
Source:: Lock is Lit Podcast Episode 116
Join us to a long delayed episode 115! We discuss the Arkansas warehouse raid that we went on over the winter, a lot of new pin acquisitions, and other random things that have been going on. We will also have a booth/table at Pinfest 2016 in Allentown PA on May 5th, and 6th, so stop by and visit us!! We also talk about the future of the show going forward.
This is the documentary on the final days of Williams pinball division. A must watch!
Tilt: The Battle to Save Pinball
The Piniwiki list of vehicles that a pin will fit in:
http://www.pinwiki.com/wiki/index.php?title=Vehicles_for_Moving_Pinball_Machines
Pinfest 21016:
First Arkansas video, which we codenamed "Arkantana"
Second Arkansas trip video:
Source:: Lock is Lit Podcast Episode 115
Join us in this very special Thanksgiving episode as we give thanks to the wonderful people that allow us to have this amazing hobby, our wives!
Guests in this episode are: Rick & Tara Taylor, George "G.W." & Theresa Whittaker, Gene & Wendy Wills, and me, Marc, & my wife Shelley. We also ask some questions to get a woman's perspective on pinball, & the pinball hobby!
L to R: Shelley & Marc Johnston, Rick & Tara Taylor, Theresa & George Whittaker, Wendy & Gene Wills
L to R: Gene, George, Daryl, Rick, & Marc
Source:: Lock is Lit Podcast Episode 114
In this episode, I invite my long time friend Ken Lilly on the show for conversations about about arcade collecting in the 1990's, and of course pinball! We introduce a new show segment, "Stupid Ebay Stuff", and also welcome a behind the scenes episode editor/commentator, Vic, the podcast droid.
We have mentioned them before, but Holland Computers sells some good multicade boards:
This what we were talking about, when we discussed Omega Race:
http://www.madocowain.com/Arcade/OmegaRace/omegarace_board.html
Ken's Games:
Flipper McCoys:
Ebay Auctions:
Police Force
http://www.ebay.com/itm/Police-Force-Pinball-Machine-by-Williams-with-Custom-LED-Kit-/252100291232?hash=item3ab2592aa0
Black Hole Ramp disk???
http://www.ebay.com/itm/BLACK-HOLE-RAMP-DISC-RARE-ORIGINAL-PINBALL-NEW-Old-STOCK-WILLIAMS-BALLY-/131514275113?hash=item1e9edc9529
Michael Jordan pin:
http://www.ebay.com/itm/301768371411?_trksid=p2055119.m1438.l2649&ssPageName=STRK%3AMEBIDX%3AIT
Centaur 2 (never heard of it)

http://www.ebay.com/itm/Centaur-II-Pinball-Machine-Bally-1983-Join-the-Ride/181175892020?_trksid=p2045573.c100033.m2042&_trkparms=aid%3D111001%26algo%3DREC.SEED%26ao%3D1%26asc%3D20131017132637%26meid%3Dbfb77b4ae3434bf1b5771181c6863c15%26pid%3D100033%26rk%3D2%26rkt%3D3%26sd%3D221881389539
Source:: Lock is Lit Podcast Episode 113
Rick and I make a triumphant return to the studio in this epic episode filled with epic awesomeness!
New show segment "Pin O' the Month" where we discuss the history behind Gottlieb's 1981 Black Hole!
We also discuss a long distance trip to Pennsylvania to pick up a Hurricane pin, what else we have been up to, and what the future holds!
The best Black Hole pin in the galaxy, mine!
Joe Cicak's original sketch for Black Hole:
The original Black Hole prototype:
Dragon's Lair whitewood (the only pic I could find):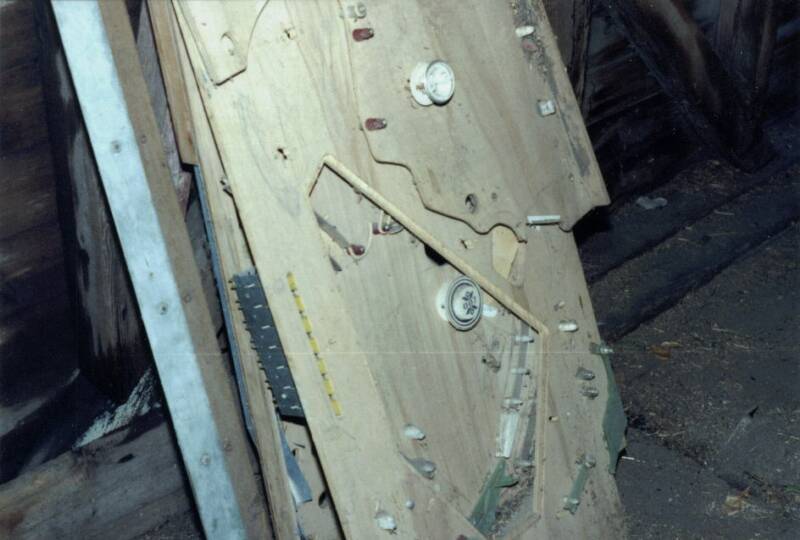 Critical Mass:
Critical Mass history, and rebirth:
http://www.theyorkshow.com/cm.html
Joe Cicak's presentation A Pinball Expo 2006:
http://www.pinballnews.com/shows/expo2006/joecicak.mp3
Source:: Lock is Lit Podcast Episode 112
Podcast: Play in new window | Download
Join me as I take the mic, and go solo without the dead weight Rick. I go into how I got started in podcasting, and how we make such an epic* show such as ours.
A all new regular** show is in the works, so stay tuned!
*Level of epicness may vary.
**Normallness not guaranteed.
Source:: Behind the Scenes
In this long awaited episode, we discuss what all we have been up to since our last episode in January. We recap the 2015 Ohio Pinball Show, talk about a new-in-box Stern pin purchase, and discuss my trip to Asheville, NC to re-visit the Asheville Pinball Museum.
Want to add better sound to your pins for fairly cheap? We also discuss adding a powered subwoofer instead of costly full speaker upgrades.
Checkout APM's site
Be sure to check out the CoinBox Pinball Podcast, and their main site East Side Pinball!
This is the powered sub that I ordered from Amazon:
And some threads on Pinside about adding external subs:
https://pinside.com/pinball/forum/topic/adding-a-subwoofer-to-pinball
Source:: Lock is Lit Podcast Episode 111
Happy New Year!
On this long delayed episode, we talk a bit about what we've been up to the past couple months, and what we hope 2015 brings us.
We also announce a new contest! Make sure you listen to the end of the podcast for a pinball sound snippet. Email us your guess as to what pinball this sound is from, and if you are correct, you'll be entered in to win a 3 pack of LED pop bumper rings courtesy of Comet Pinball, and a custom shooter rod of your choice from Wizard Amusement!
Comet Pinball Pop Bumper Rings!
Wizard Amusement Shooter Rods!
We will be attending the 2015 Ohio Pinball Show, check them out here!
We will also be hitting the auctions again this year.
And this is the very useful fuse/circuit breaker mod:
Source:: Lock is Lit Podcast Episode 110